ShowMeBoone.com

Daniel K. Knight
Boone County Prosecuting Attorney

Boone County Prosecuting Attorney
705 E. Walnut
Columbia, MO 65201-4485
Office (573) 886-4100
Fax (573) 886-4148
Prosecuting Attorney,
Daniel K. Knight
Welcome to the Boone County Prosecuting Attorney's Office!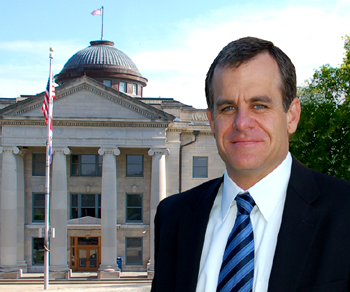 The Boone County Prosecuting Attorney is responsible for the enforcement of state criminal law and child support enforcement within the borders of this county. The office consists of 42 persons including support staff, 13 attorneys, 4 investigators, a victim response unit, a child support unit, a bad check unit, and a delinquent tax unit.
Daniel K. Knight was born and raised in Columbia, Missouri. He graduated from Hickman High School in 1985, received his undergraduate degree in Business Administration from the University of Missouri-Columbia in 1989, and graduated from the University of Missouri-Columbia Law School in 1992.
On September 8th, 1992, Knight was hired as an Assistant Prosecuting Attorney by former Boone County Prosecutor Joe Moseley. On April 3rd, 1999, former Boone County Prosecutor Kevin Crane promoted Knight to the position of First Assistant Prosecuting Attorney. In 2006, Knight ran unopposed for Boone County Prosecuting Attorney and was sworn into office on January 1st, 2007. In 2010, he ran unopposed and was sworn into office on January 1st, 2011. In 2014, he again ran unopposed and was sworn into office on January 1st, 2015.
During his career at the Boone County Prosecutor's Office, Knight has personally handled thousands of criminal cases including numerous murder prosecutions. As an administrator, Knight is ultimately responsible for thousands of criminal cases filed each year by the prosecutor's office which range from traffic offenses to murder in the first degree.
Any questions? Feel free to contact us:
Boone County Prosecuting Attorney

705 E. Walnut
Columbia, MO 65201-4485

(573) 886-4100 Phone
(573) 886-4148 Fax
---
Subscribe to the Boone County News email list.
www.ShowMeBoone.com Boone County, Missouri. 801 East Walnut Columbia, MO 65201 USA