ShowMeBoone.com

Jenna Redel, Director
Boone County Human Resources

Boone County Annex
613 E. Ash, Rm 102
Columbia, MO 65201-0000
Office (573) 886-4395
Fax (573) 886-4444
Human Resources
Employment Opportunities
Additional Employment Information
Equal Employment Opportunity
Employee Resources
Employee of the Quarter
for the Third Quarter of 2015
The Employee of the Quarter for the Third Quarter of 2015 is Lakshmi Sankaran Nayar of the Boone County IT Department!
Lakshmi has worked for Boone County as a Senior Programmer Analyst for the IT Department since April of 2013. She is a team player who can always be counted on to put in more than her share of the work. She is well known for her intelligence, diligence, and excellent work ethic. She is a consummate professional with the most pleasant and helpful attitude, as well as brightening the IT department with her smile and cheerful demeanor.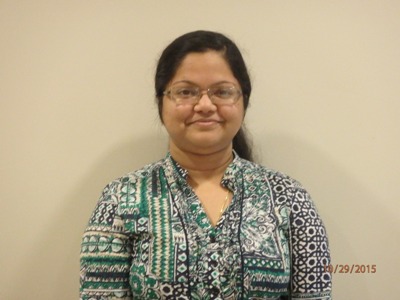 Congratulations, Lakshmi!
The Employee Recognition Committee would also like to recognize the following nominees:
Gary Crapenhoft - Facilities Maintenance
Joseph Fulkerson - Boone County Jail
Dan Marshall - Resource Management
Les Werner - Court Marshal
Barbara Youngblood - Collector's Office
Any questions? Feel free to contact us:
Jenna Redel
Human Resources Director

Jennifer Feltner
Recruitment & Hiring Coordinator

Angela Wehmeyer
Benefits & Wellness Coordinator

Hilary Matney
Risk Management Specialist
Boone County Annex
613 E. Ash, Rm. 102
Columbia, MO 65201-0000
(573) 886-4395 Office
(573) 886-4444 Fax

---
www.ShowMeBoone.com Boone County, Missouri. 801 East Walnut Columbia, MO 65201 USA