ShowMeBoone.com

Jenna Redel, Director
Boone County Human Resources and Risk Management

Boone County Annex
613 E. Ash, Rm 102
Columbia, MO 65201-4432
Office (573) 886-4395
Fax (573) 886-4444
Human Resources
Employment Opportunities
Additional Employment Information
Equal Employment Opportunity
Employee Resources
Employee of the Quarter
for the First Quarter of 2016
The Employee of the Quarter for the First Quarter of 2016 is Jodi Pryor of the Boone County Joint Communications!
Jodi Pryor, a Shift Supervisor for Boone County Joint Communications, will celebrate 15 years with the department on April 30th. As a Second Shift Supervisor, Jodi oversees the busiest office, the busiest County in Central Missouri, during the busiest time of day. Jodi skillfully handles her Team and workload with professionalism, grace, and humor. She inspires her employees to help each other, and puts her employees' needs first. She models dedication, perseverance, and integrity every single day. People want to work for Jodi, and she is an amazing example of the quality of employees that Boone County hires.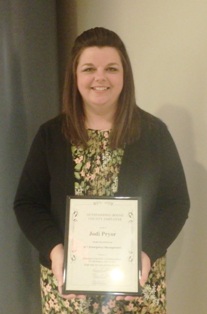 Congratulations, Jodi!
The Employee Recognition Committee would also like to recognize the following nominees:
Lisa Ballenger - Deputy Recorder - Recorders Office
Doug Coley - Inspector - Resource Management
Crystal DeSilva - Deputy Collector - Collector's Office
John Ennenbach - Sergeant - Sheriff's Department
Meta Kanago - Accounts Payable Coordinator - Auditor's Office
Angela Loftin
- Legal Assistant - Prosecuting Attorney's Office
Kent Richardson - Detention Officer - Boone County Jail
Any questions? Feel free to contact us:
Jenna Redel
Human Resources and Risk Management Director

Jennifer Feltner
Recruitment & Hiring Coordinator

Angela Wehmeyer
Benefits & Wellness Coordinator

Hilary Matney
Risk Management Specialist
Boone County Annex
613 E. Ash, Rm 102
Columbia, MO 65201-4432
(573) 886-4395 Office
(573) 886-4444 Fax

---
Subscribe to the Boone County News email list.
www.ShowMeBoone.com Boone County, Missouri. 801 East Walnut Columbia, MO 65201 USA