Jenna Redel, Director
Boone County Human Resources

Boone County Annex
613 E. Ash, Rm 102
Columbia, MO 65201-0000
Office (573) 886-4395
Fax (573) 886-4444

Human Resources
Employment Opportunities
Additional Employment Information
Equal Employment Opportunity
Employee Resources
Employee of the Quarter
Employee of the Quarter for the First Quarter of 2015
The Employee of the Quarter for the First Quarter of 2015 is Cpl. Austin Kidwell of the Boone County Jail.
Cpl. Kidwell has worked at the Boone County Jail since 2008. Cpl. Kidwell is courteous and respectful and is always willing to assist anyone who needs it. He routinely comes in early, stays late, and goes above and beyond in his duties. Cpl. Kidwell is very encouraging and positive with all of his staff.
Congratulations, Cpl. Kidwell!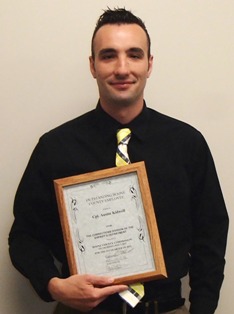 The committee also recognizes all employees nominated for the first quarter. The following employees are being honored as Nominees of Employee of the Quarter:
Lakshmi Sankaran Nayar - IT Department
Sgt. Crystal Homan - Boone County Jail
Any questions? Feel free to contact us:
Jenna Redel
Human Resources Director

Jennifer Feltner
Recruitment & Hiring Coordinator

Angela Wehmeyer
Benefits & Wellness Coordinator

Hilary Matney
Risk Management Specialist
Boone County Annex
613 E. Ash, Rm. 102
Columbia, MO 65201-0000
(573) 886-4395 Office
(573) 886-4444 Fax

---
www.ShowMeBoone.com Boone County, Missouri. 801 East Walnut Columbia, MO 65201 USA