Boone County Commission

Boone County Government Center
801 E. Walnut, Rm 333
Columbia, MO 65201-7732
Office (573) 886-4305
Fax (573) 886-4311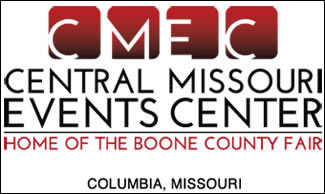 Central Missouri Events Center - Home of the Boone County Fair
The Central Missouri Events Center (CMEC), home of the Boone County Fair, is located in the heart of Central Missouri. Consisting of over 230 acres with arenas, barns, multipurpose buildings, a 3,000 capacity grandstand, and ample parking, the Central Missouri Events Center can accomodate a variety of events and special requests. Easy access to Interstate 70, Highway 63 and extensive lodging and dining options make CMEC the perfect locale for your next event, whether large or small. CMEC is also the perfect stopover during travel, offering low cost overnight stalls and RV parking.
CMEC is host to numerous events throughout the year including: Columbia Kennel Club Dog Show, RK Gun Shows, Missouri Paint Horse Club Horse Shows, Automotive Swap Meets, the Annual Boone County Fair, and Boone County Draft Horse Sale.
CMEC offers the perfect solution for planning your next conference, exhibition, auction, concert, trade show, or any type of special event. We provide tailor made solutions as well as the best advice from the moment you book to the time your event is complete. Whether a seasoned promoter or a local group wanting to put on an event, Central Missouri Events Center will work with you to make sure your event is a success.
Meetings
Car Shows
Trade Shows
Concerts
Gun Shows
Swap Meets
Fundraisers
Auctions
Liquidation Sales
Conferences
Derbies
Tractor Pulls
Presentations
Reunions
Seminars
Performances
Training Sessions
Exhibitions
Antique Shows
Receptions
Lodging
Dining
Any questions? Feel free to contact the Central Missouri Events Center:
Central Missouri Events Center

5212 N. Oakland Gravel Rd.
Columbia, MO 65202

(573) 474-9435 Phone
(573) 474-8224 Fax
---
www.ShowMeBoone.com Boone County, Missouri. 801 East Walnut Columbia, MO 65201 USA